Weddings are our Jam!
---
We particularly love our wedding couples as it is our honor to be part of such heartfelt celebrations! We take the responsibility very seriously of making each wedding absolutely perfect in every way. From the opening notes of our fantastic string ceremony musicians to the final note of the last song of the reception, every detail is expertly handled so you can enjoy every single moment.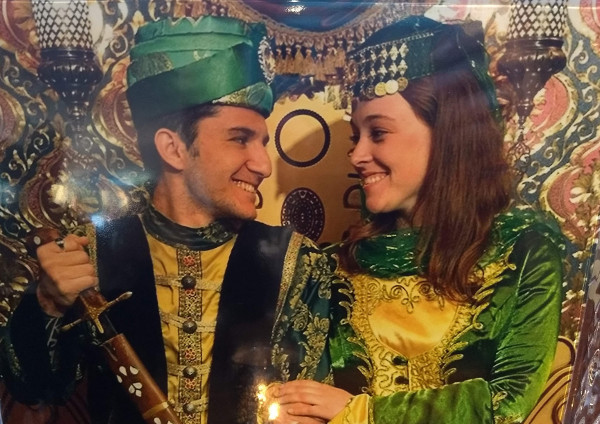 Offering Military and First Responder Discounts!!
NightLife is an all inclusive entertainment specialist!
Wedding Options: (Additional Fee)
---
Ceremony Officiant - $300
---
Ceremony String Musicians – depends on the number of musicians
---
Cordless Lapel Microphone Package - $400
---
Jazz Cocktail Trio - $900
---
Piano-Sax Cocktail Musician - $250
---
Venue Up-lighting - $500
Reviews from some of our past wedding events:
My daughter recently married 10/10/2020! The NightLife Band completed the beautiful day. All of our guests enjoyed the upbeat great dancing music. Shelly worked well with our awesome caterer ensuring things happened at the proper times! What a fun day had by all!! I HIGHLY recommend NightLife the best party Band in town!!!!!
NightLife is such a fantastic band. I cannot say enough good things about them. Shelli, Kurt and the rest of the gang are so lively! Shelli comes out into the crowd to sing and dance with you (limited during COVID) and just brings her performance to life. When reminiscing with family and friends after our wedding, the main topic of conversation was how awesome the band was. CANNOT WAIT to see them play again hopefully soon =)
My wedding was yesterday and I am already writing this review. NightLife is the BEST band out there and truly made our wedding reception the best night of our lives! Every guest I talked to said NightLife was the best band they've ever heard and of course were asking for their info to book them for their next event. Shelli is SO amazing to work with. She is an incredible lead singer and an even more awesome band manager who worked with me on everything, from incorporating a choreographed dance to keeping us on schedule for the night, and answering my many emails in a timely manner. If you are even considering a band in the DC area or outside of DC, please consider these guys. They are so talented and create such a fun/party atmosphere. Yes, a band is pricey but they were actually more reasonable than other bands in the DC area and are SO worth it. Thank you NightLife and Shelli for making our wedding dreams come true!
The Nightlife Band was spectacular for our wedding. The dance floor was packed all night. The band was high-energy, exciting and excited, and led to an infectious good mood. They listened to what we wanted, played songs we loved, and didn't play any songs we didn't like. They were even willing to learn the obscure Bruce Springsteen song we chose for our first dance. They were very flexible on timing for the night, and worked well with our day-of coordinator. The band leader, Shelli Cinotti, is easy to work with and works well with the other vendors, the hotel, the AV people, etc. We cannot recommend them highly enough. They were fabulous. They book well in advance (we booked them more than a year before our wedding), so if you like them, act quickly.
The band was amazing! Our wedding planner said that she had never seen so many people dance the entire time that the band played. As the groom, I had only two requests, no lines at the bar and a great band! I was not disappointed.
NightLife truly MADE our wedding reception. They were so engergetic and got everyone dancing on their feet. The vibe they helped create was incredible and guests were raving how great they were. Getting a good band was one of our most important elements of our wedding and they did not dissapoint. Not to mention every band member, espeically Shelli, is the sweetest! Woud totally recommend to anyone!
My husband and I got married a week ago and people are still talking about how great the band was. NightLife was UNBELIEVABLE!! Shelli and the rest of the band were fantastic! They had so much energy and the dance floor was packed all night long! Shelli has had so much experience and she totally knew how to run the show and the schedule, timeline, etc. If NightLife is available for your wedding, you will be so lucky!! They made our wedding a night to remember!
NightLife Band was incredible!! We went to see them in DC and loved them so much. Hired them for our daughter's wedding in Ellicott City in October.. Our guests haven't stopped talking about them!! The band leader, Shelli, has enormous energy, so organized, was a pleasure to work with, and was able to fulfill all our requests. The entire band was awesome! Everyone was dancing!! Couldn't have been more pleased!!!
I will get right to the point. Hire Nightlife. You have too many other wedding details to attend to. Shelli & the band are incredible. Unbelievable talent, unbelievable energy, and Shelli is always approachable. She promised a high energy reception and the band delivered. Can't thank you enough!!!!
We are so happy we chose Nightlife as our wedding band! They were very professional, were great with helping us develop a timeline of the wedding reception, and of course were wonderful musicians/performers! The process starts when Shelli, the lead singer and band leader, sending out a questionnaire of how we want the day to go, what songs we want to play, and any other detail we can think of musically. Shelli will take all of our answers, and make suggestions based on our tastes and if we wanted it to be a food focused event or dancing focused event. The suggestions really helped make sure we got everything out of the band, and make sure we made use of our time. Shelli even provided up lighting that really accented our reception room. It was evident they had A LOT of experience playing at weddings! Having a very experienced band be essentially in charge of the flow of the wedding reception allowed us to completely relax and enjoy our perfect day. We have received numerous compliments about our band and 3 months later our guests are still raving about Nightlife! The music was everything we could have hoped for and more. All of their musicians were fantastic and very friendly. They played everything we asked them too and more…it was really amazing! If we were to plan our wedding all over again we would 100% hire Nightlife again. We recommend them to all of our family and friends!